Product Overview
Symantec Server Management Suite 7.6 (formerly known as Altiris Server Management Suite) provides IT administrators with a comprehensive server management solution for physical and virtual servers across a broad array of platforms, including Windows, Linux, UNIX and virtual platforms.
The suite provides solutions to provision, control, automate, and monitor servers from a central console. The combination of complete lifecycle functionality built on an integrated framework enables organizations to gain and maintain control of their servers, reduce service interruptions, and increase uptime.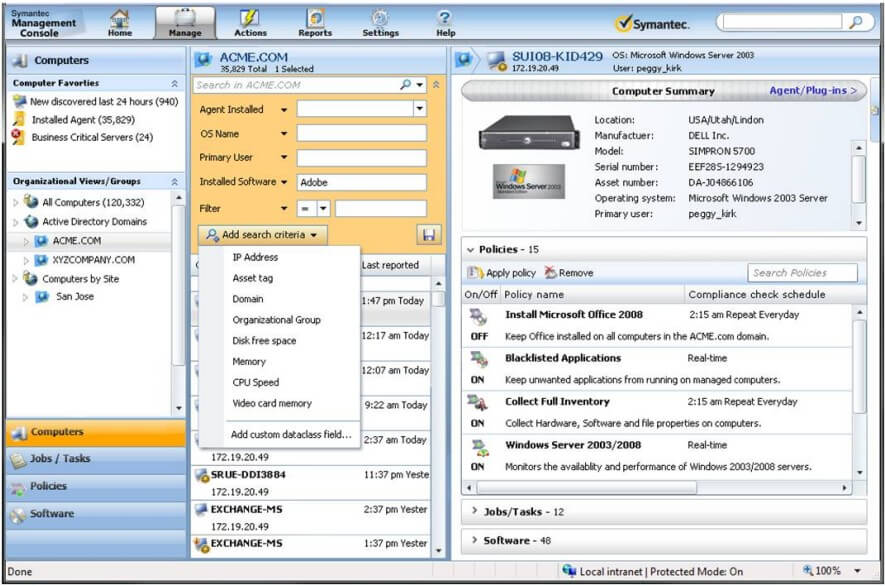 Heterogeneous server lifecycle management across Windows, Linux, UNIX and virtual platforms
Integrated virtual machine management minimizes complexity when supporting mixed physical and virtual environments
Accurate discovery and inventory of hardware and software server configurations
Image-based and scripted provisioning capabilities reduce build times and ensure that each server configuration is reliable and consistent
Comprehensive software and patch management proactively manages applications and updates to minimize security risks
Integrated server monitoring and remediation helps resolve bottlenecks before affecting business functions
NEW FEATURES
Intuitive Management Interface: Server Management Suite features a new and improved management interface for computers, tasks, policies and software.
Expanded OS Deployment: Server Management Suite includes additional platform support. Scripted installation support for Solaris.
Integrated Virtual Machine Management: Server Management Suite provides a consistent management framework across VMware and Microsoft Hyper-V to ease these management burdens.
Robust Patch Management for Today's Threats: Server Management Suite improves overall security by providing robust patch management for multiple operating systems and 3rd party applications. Support for all operating system updates, common browsers and plug-ins, and more.
Measure and Improve IT Performance: Server Management Suite contains advanced analytics and reporting that allow IT organizations to explore data and answer their own questions.
More Automation, Less Headaches: Server Management Suite helps you define, design and deliver automated IT processes and workflows that drive business.